Wild Ride 25 Years Ago Eventually Leads to Chet's - and a Training Session
1976 Malibu wagon ready for Hurst tool training

Ff. John Longo checking out the Hurst tool before going to work on the front door

Ff. Harold Mangler operating Hurst tool at Chet's Auto Parts
When it came to fire department training, Chet's Auto Parts on Welton Street was always generous with their "inventory," like this 1976 Malibu wagon that once belonged to the family of a Hamden Fire Department member (we're not talkin'!).
And thereby
hangs a tale: 25 years ago this week (September 26, 1986, to be exact), a department member's
three-year old son coasted his mom's station wagon down their
driveway and through their backyard, on a wild ride that has become somewhat legendary (at least to those who were on the job in '86).
The very good news is that the kid wasn't hurt
when
the station wagon he was
piloting collided
with the neighbors' house, and neither were his three brothers. The wagon got the worst of the deal, and nine months later it was put to good use in this June 25, 1987
training session at Chet's.

Lt. Bob Viglione, Ff. Jim Dunlop, Ff. Mark Barletta and Lt. Clark Hurlburt

c. 1988 - Platoon 2 Hazmat Incident

Hazmat photos courtesy of Bob Mordecai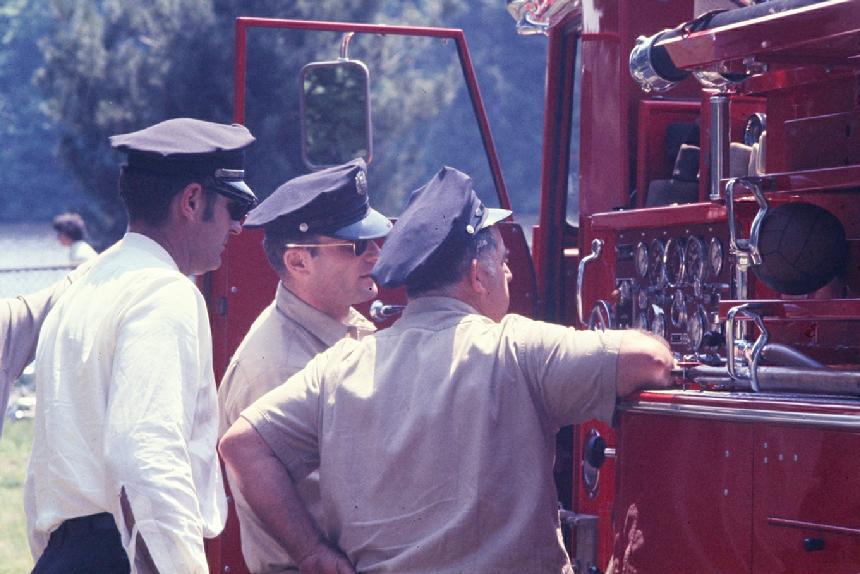 May 1970 - During a training session near Lake Whitney, Lt. Joe McDermott and Firefighters Walt Vining and Dick Stacey check out the pump panel of Engine 3, one of the two 1968 Maxim "S" models. Photo by Ed Doiron, Sr.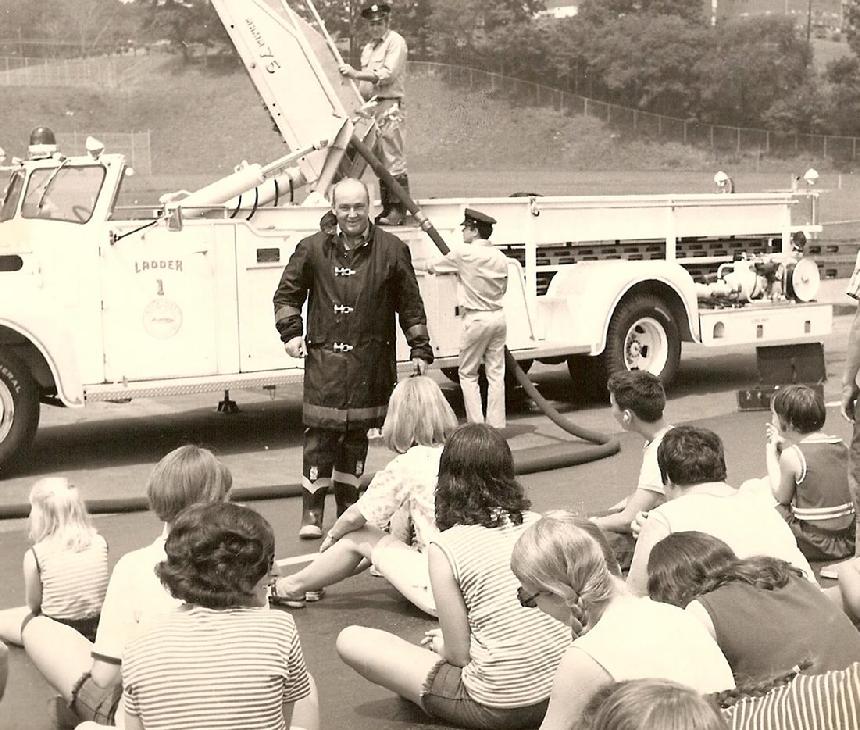 1971 - Summertime ladder demonstration at the rear of the high school. Ff. John Reilly is in the foregound, with Ff. Rick Kenyon right behind. Ff. Harry Cubbellotti is on the turntable of Ladder 1. It looks like the ladder pipe is being fed by a pumper just out of camera range. This truck, which was delivered more than 12 years earlier, was repainted red and fitted with a soft top shortly after this photo was taken.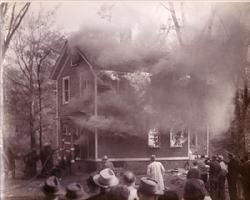 October 11, 1945 - Ives Street Fire Demonstration with New Haven Fire Department
Future Hamden fire brass play hookey to witness
1945 joint NHFD-HFD demonstration on Ives Street.
On October 11, 1945, in a joint demonstration by the New Haven and Hamden Fire Departments, this 2 1/2 story wood frame house on Ives Street was torched to demonstrate the effectiveness of fog on Class A fires.

CLICK on the photo at left to read the results, and about the two future Hamden battalion chiefs, both in 5th grade at the time, who played hookey to see this unique cooperative demonstration - and what happened to them!

There are several other photos taken at the time, reprinted in a Fire Engineering article. See also a New Haven Evening Register article from the following day. Check them out.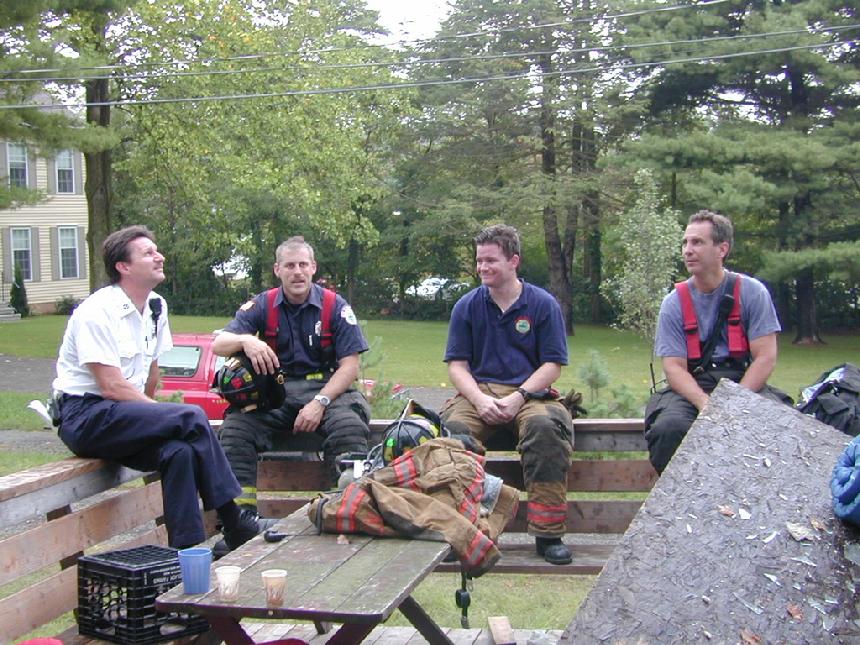 September 16, 2002 - Bob Mordecai took this photo taken during a break in a training session at an old house on Shepard Avenue that was scheduled for demolition. L-R: Capt. Dave Strawhince, Ff. Craig Smart, Ff. Brion Tierney, and Lt. Jim Dunlop.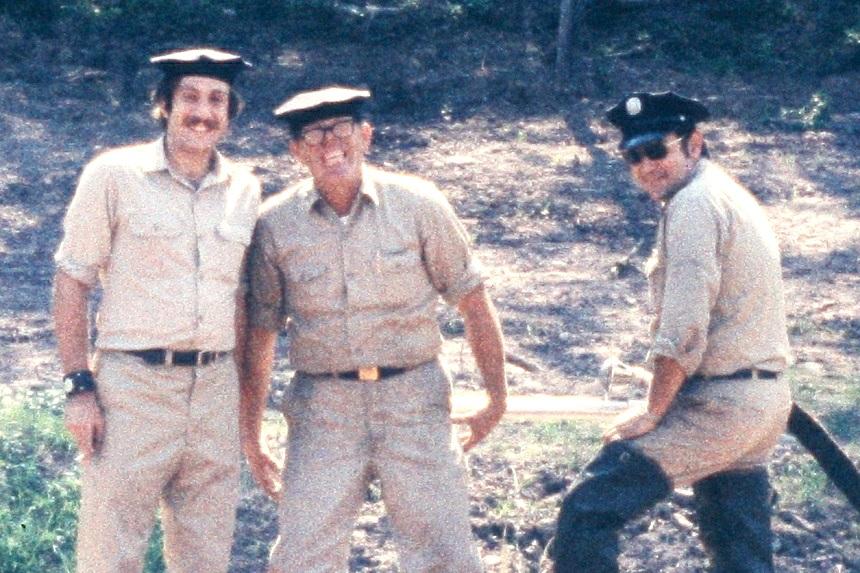 August 1971 - Firefighters Tony "Moonman" Melillo, Howie Hurlburt, Sr., and Walt Macdowall mugging it up during foam drill at the new Public Works building on Shepard Avenue. (Photo by Ed Doiron, Sr.)
The three photos above were among hundreds of slides donated to the HFRA last year by former Chief John Tramontano. When he was the department's training officer, Chief Tramontano began the practice of photographing various drills in detail. The resulting slide shows were used as training aids in future training sessions and for public education activities. These photos, taken in the rear parking area of Station 3 in the summer of 1982, show some of the younger members of Platoon 3 training in mountain rescue techniques.
Posted 12/31/10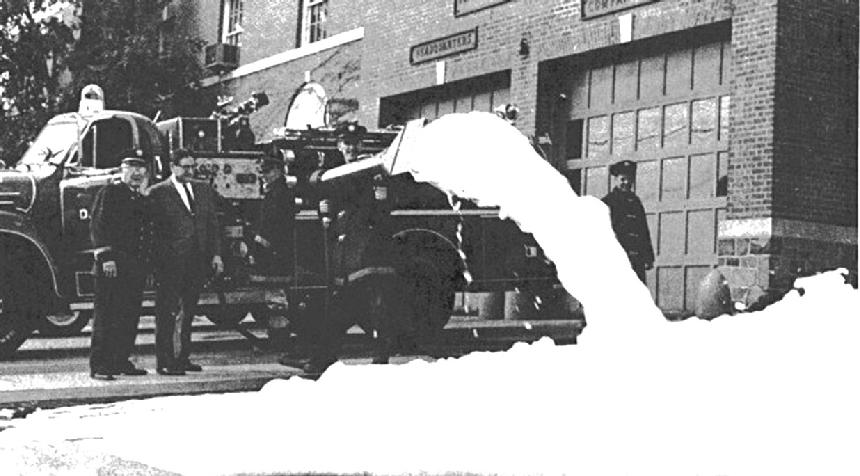 The Hamden Chronicle, October 6, 1966 (Courtesy of Chan Brainard)
Firefighter Russell Smith demonstrates high expansion foam at Headquarters as Mayor John DeNicola, Sr. and Dep. Chief Training Officer Daniel Hume look on. The other two firefighters are not identified in this Hamden Chronicle photo. However, the pump operator appears to be George Patten and the other firefighter looks like Charlie Carlson. At the time, all three firefighters were assigned to old Platoon 3, led by Dep. Chief James Strain.

The 1965 Mack 750 GPM, served as Engine 4 from August 1965 until October 1968.

(From November 1957 until December 31, 1965, John DeNicola, Sr. served as Hamden's last First Selectman. He was subsequently elected as Hamden's first mayor under a new town charter that took effect January 1, 1966. Mayor DeNicola's son, John Jr., served as Hamden's sixth mayor from 1985-87; and his daughter, Barbara, served as Hamden's ninth mayor from 1997-99.)
Posted 12/30/10
Live Fire Training - September 2007



CLICK on the photo to view Capt. Ron Desroches' photos of live fire training that involved departments from all over the US. Among other things, the training was designed to test personal escape canisters. It was conducted on the Dadio Farm property on Putnam Avenue.






Live Fire Training - May 1986


In May 1986, an old house on Arch Street was scheduled for demolition to make way for a new condo complex. The owners, the Pasqualoni family of Cheshire, donated the house to the Hamden Fire Department for live fire training. During the last two weeks of May, training in fire attack and ventilation tactics was conducted for all career and volunteer firefighters. During the final day of training, just before we let the building rip, the exercises were attended by a very unexpected visitor.

Posted 10/25/10



Before heading for home and the shower, the group posed for this photo. Back Row (L-R) - Don Steele, Bill Gee, Dave Johnson, Dean Smith, John Blasius, Steve Law, Paul Moody, Vic Mitchell, Russ Loller, Tony Melillo, Lt. Gil Spencer, Dave Howe. Front Row (L-R): Clark Hurlburt, Ken DeLorme, Gerry Feinberg, Gilbert Estra, Russ DeAlmo, Jim Mathis, Bill Chalmers, and Steve Blennerhassett (Photo by Ed Doiron, Sr.)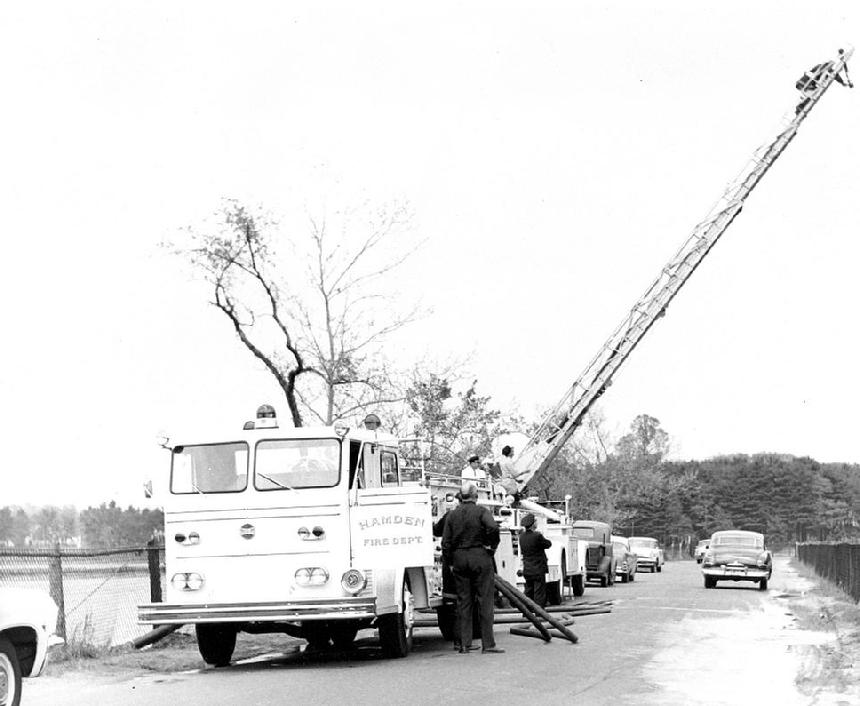 c. 1965 - Waite Street - In this drill, Engine 2 is drafting from Lake Whitney to supply the ladder pipe on Ladder 1. Given the vintages of the cars in the background, this photo easily could have been from the late 1950's. But the right front fender of the Chief's '65 Chevy can be seen at the lower left, thus giving a somewhat more accurate date to the photo.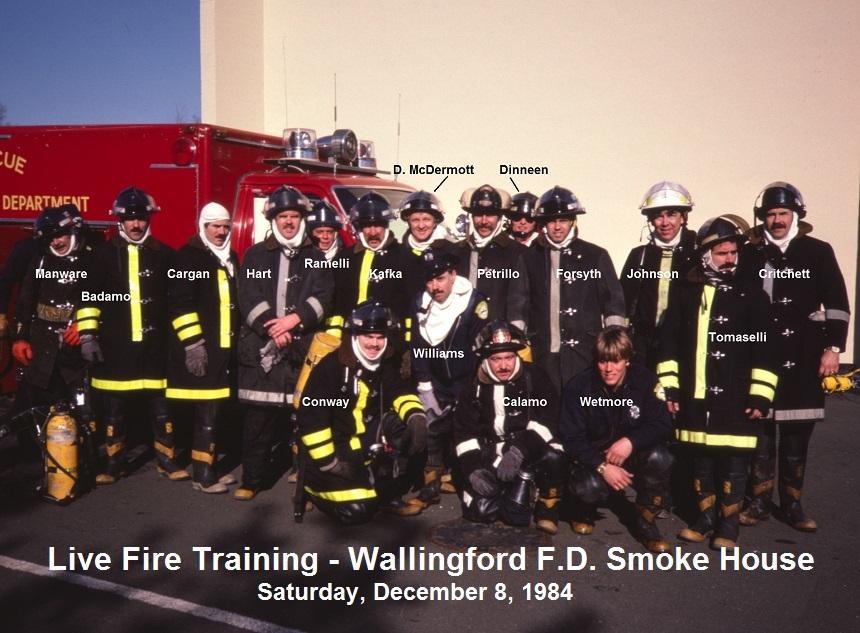 Photo by John Tramontano
In conjunction with Fire Fighter I certification for all Hamden career and volunteer personnel, the Wallingford Fire Department kindly offered the use of their training tower and smoke house over the next few months. This was the first group of career personnel. From the clean appearance of everyone in the photo above, it was obviously shot before interior firefighting activies began. More photos from this particular exercise will be posted in the near puture.
Water Rescue Training - 1966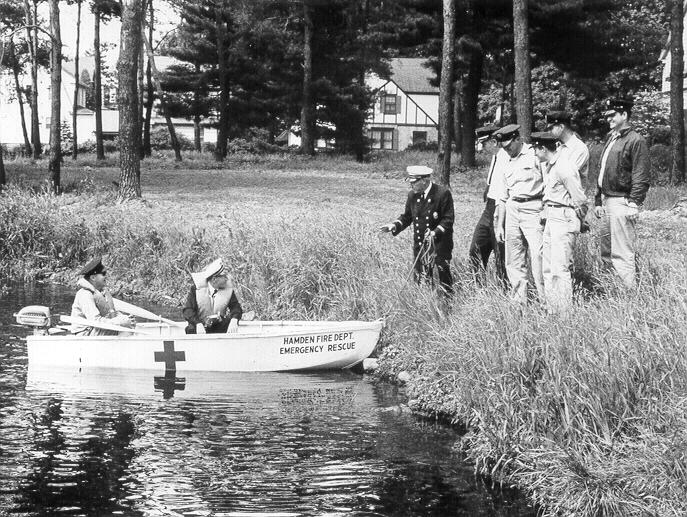 ". . . and don't come back 'til ya catch a trout this long."
This photo, dated June 9, 1966, was captioned "Refresher Course in Water Rescue." It looks like the location might be Lake Whitney near Greenway Street. In the boat are Ff. Milner Benham and Lt. Bill Hines. On shore (L-R) are Dep. Chief Training Officer Daniel Hume, Lt. Daniel O'Connell, Ffs. Art Heriot, Paul Wetmore, Sr., Paul Reutenauer, and Gilbert Spencer. The photographer is not known.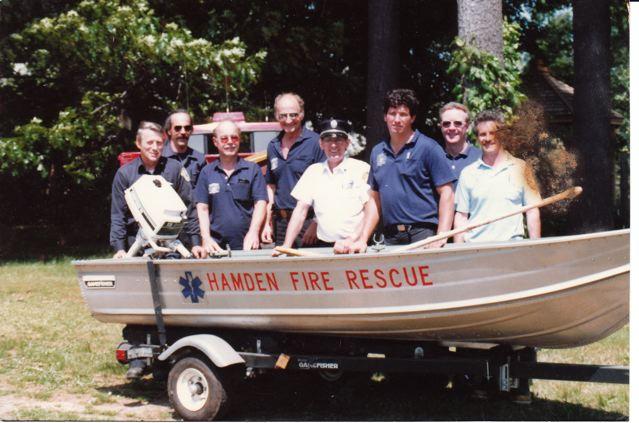 c. 1990 - L-R - Supt. Paul Wetmore, Ed Emerson, Charlie Carlson, Harold Mangler, Lt. Doug Yocher, Mark Pratt, John Reynolds, and Lt. Bob Viglione (Photo by Shirley Mangler)
1974 - High Elevation Rescue Training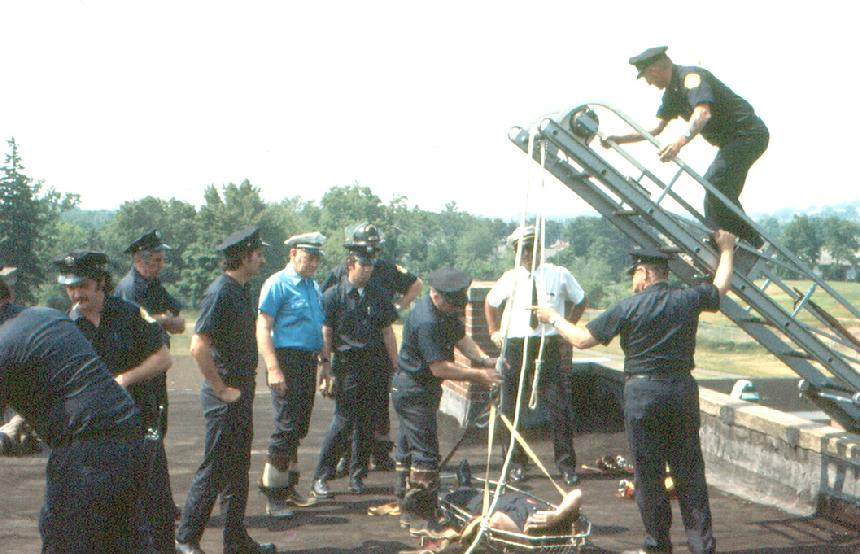 1974 - Platoon 2 High Elevation Rescue Training at Centerville School
Summer 1974 - 2nd Platoon training on the roof of Centerville School before it became the Miller Library. The training involved lowering the litter from the roof with a victim secured inside.

The "victim" cannot be identified, but some of the others can be. From L to R - 1. Unknown firefighter (back to camera), 2. Roger Sullivan (must've been working extra), 3. Ray Vreeland, 4. Bill Coppola (also must've been working extra), 5. Capt. Burt Hillocks, 6. Tom Mikolinski, 7. Unknown firefighter in helmet (behind Mikolinski), 8. Unknown firefighter (tying off rope), 9. Dep. Chief Joe McDermott, 10. Howie Hurlburt, Sr. (with hand on ladder), and 11. Warren Blake (on aerial ladder). (Photo by Ed Doiron)
The New Haven Sunday Register, December 9, 1956

Three new firefighters, Gene Maturo, Joe Rahl, and Dick Stacey, began recruit training in December 1956. This interesting New Haven Sunday Register article gives us a look at firefighter training in Hamden more than half a century ago. This was Batt. Chief Daniel Hume's first group of recruit firefighters after his appointment to the newly created position of Training Officer. Before the month was over, recruit firefighters Ray Bantz and Milner Benham were also appointed.

The deck gun in the picture was mounted on the top rear of Hamden's 1941 Diamond-T city service ladder truck. Thanks to Chan Brainard for sending this article to us.

Article courtesy of Chan Brainard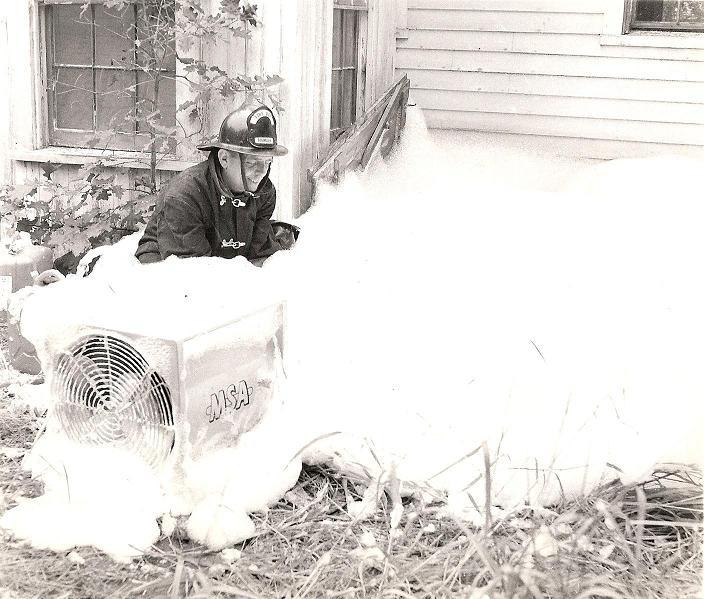 September 1963 - Bob "Ace" Callahan helps demonstrate a new high-expansion foam application unit for basement fires at an abandoned building located on the Winchester Powder Farm on Putnam Avenue. This is approximately where the Dunbar-Davenport complexes are located today. (Photo by John Mongillo)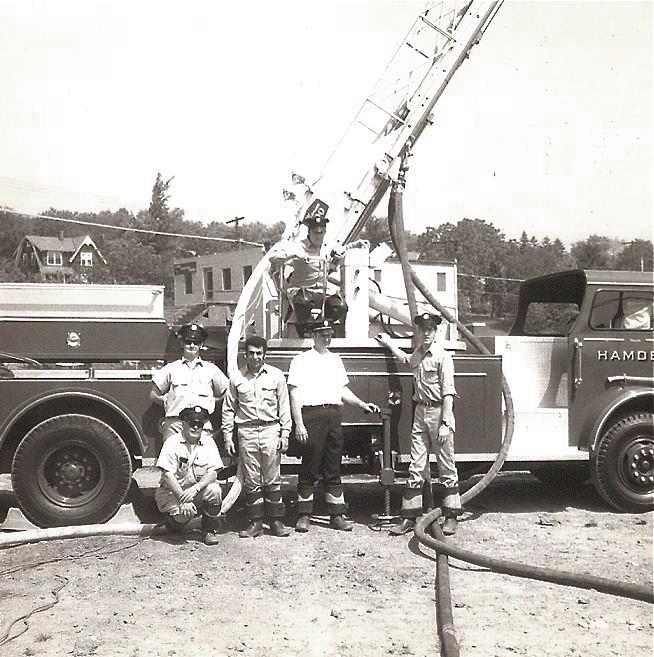 1970 - New crew of Truck 2. L-R Bob Chadwick standing behind Sid Trower, Ed Defrancesco, Lt. Gilbert Spencer, Dennis Cosgrove. Bob Kenney on turntable.
| | |
| --- | --- |
| December 1967 - State instructor, Thomas Forbes, conducts Civil Defense training in the volunteers' meeting room at Station 4. Seated in front L-R: Lt. Luke Tobin, Ffs. Hugh McLean, Bill LaVelle, and Gerry Wolf. Seated rear: Ffs. Mario "Bucky" Serafino and Bill Davin. Standing in rear: Dep. Chief Training Officer Dan Hume and Chief V. Paul Leddy. (Vaccaro photo - CLICK to enlarge) | c. 1975 - Carmen Amarante and Jim Moore conducting CPR training for counselors-in-training at the Northern Branch YMCA Outdoor Center (Photo by John Mongillo, Sr.) |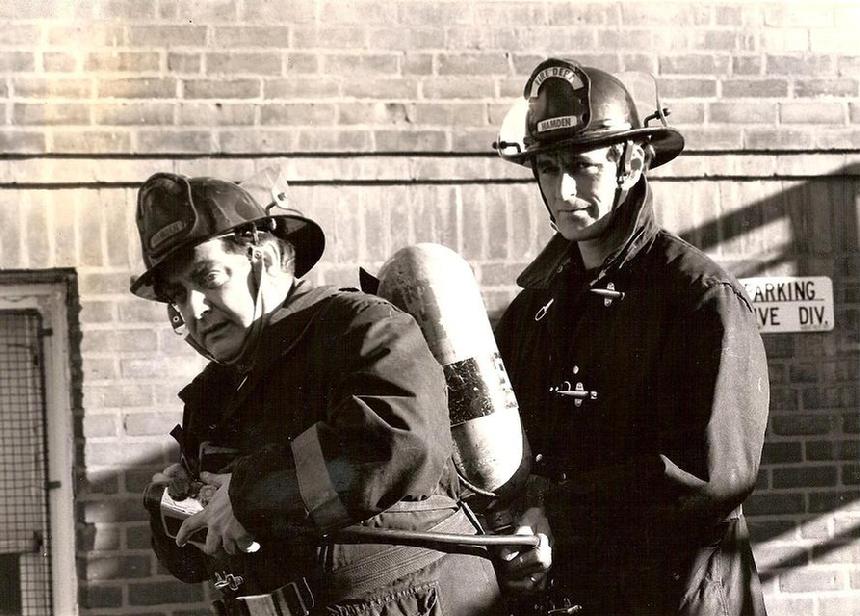 Carmen Amarante and Paul Reutenauer
Ladder Training - June 1982
Photos by John Tramontano
| | |
| --- | --- |
| Bill Mulcahy | Sam Jones |
October 8, 1994 - Sears Parking Lot - Following a training exercise at the soon-to-be-razed Sears Department Store on Dixwell Avenue (where T.G.I. Fridays and Pep Boys stand today), Batt. Chief Tom Doherty poses with crews from Engine 5, Engine 9 and Tower 1. L-R: George Edwards, Lt. Clark Hurlburt, Austin Williams, Harold Mangler, John Longo, Jim Moore, Batt. Chief Tom Doherty, Ed Emerson, and Capt. Dave Johnson. (Photo taken by Shirley Mangler)
COPYRIGHT NOTICE

Unless otherwise cited or in the Public Domain,
all material on this website,
including all original photos, essays, articles and commentary published herein, are Copyright © 2009-2022 by the Hamden Fire Retirees Association, Inc., and may not be copied or republished in whole or in part without prior written permission of the Hamden Fire Retirees Association, Inc.

Official website of the Hamden Fire Retirees Association, Inc.
Website powered by Network Solutions®