The Dalmatian has always been the quintessential firehouse mascot. Fire service lore has it that Dalmatians were excellent fire scene companions for the horses that drew all big city fire apparatus before they were motorized.

Hamden never had horse-drawn fire apparatus. But for many years there were at least two Dalmatian firehouse mascots in town. From time to time some Hamden firehouses had other mascots. There were other dogs, too (see "Blackie"), as well as some cats and even a hamster. Below are some of the photos that have surfaced thus far. We're always looking for more!
Sport - 1942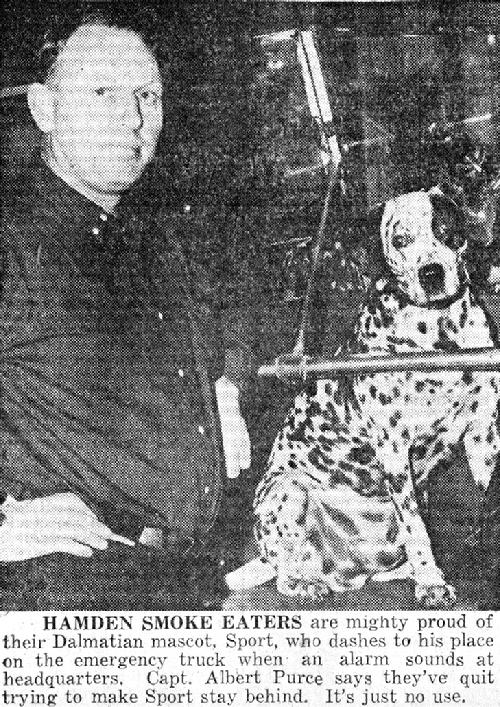 Article courtesy of Chan Brainard
1940 - "Sport" at Headquarters

November 1957

July 15, 1954 - Chan Brainard on running board of Engine 4 with Station 4 mascot "Blackie"
February 9, 1944 article from The New Haven Journal-Courier (Courtesy of Don Steele)

Belle was born in May 1942. She is shown here in this 1947 photo sitting between Lt. Everett Doherty and Larry Spahr of Co. 3. Bob O'Donnell is sitting in the driver's seat of Engine 3.

One of several of Belle's dog licenses that were saved at old Station 3. They were issued by the Town Clerk, Walter D. Connor. Mr. Connor remained the Town Clerk until the mid-1960s.
New Haven Sunday Register
October 14, 1951
Newspaper article courtesy of Chan Brainard
June 2, 1952 - "Blackie" poses with (L-R) Ff. Richie Lostritto, Capt. Paul Leddy, Ffs. Julius Norman, Joe Collins, Ray Carofano and Paul Rosadina. (Photo courtesy of Richie Lostritto)
These guys resided at Station 3 briefly in the late 1970s.
COPYRIGHT NOTICE

Unless otherwise cited or in the Public Domain,
all material on this website,
including all original photos, essays, articles and commentary published herein, are Copyright © 2009-2021 by the Hamden Fire Retirees Association, Inc., and may not be copied or republished in whole or in part without prior written permission of the Hamden Fire Retirees Association, Inc.

Official website of the Hamden Fire Retirees Association, Inc.
Website powered by Network Solutions®