Hamden Fire Department Telephone Numbers - 1918 to 1988
The first commercial telephone exchange in the world - yes, in the world - was established on January 28, 1878 in New Haven, eventually becoming the Southern New England Telephone Co.
The first Hamden telephone exchange was established in 1915.
Telephone service was a fairly rare and expensive luxury for most households at the time.
In
1918, the Town of Hamden began paying for telephone service for Companies 1, 2, 3 and 4, each of which owned their own quarters. In 1918, Co. 5 was located in a building that was not its own quarters. Companies 6, 7, 8 and 9 were not organized until after 1918.
| | |
| --- | --- |
| | 1927 SNET Directory |
1910s - 1920s
The Centerville, Mt. Carmel and Mix District companies were all on the "Hamden" telephone exchange. The other Hamden fire companies, all located in the southern end of town, were on New Haven's "COLONY" and "LIBERTY" exchanges.
The Humphrey, Centerville, and Whitneyville fire companies all had "party" lines. Party lines were assigned to individual customers who, despite having their own telephone numbers, shared the same phone line with another subscriber. If one of the party line customers was using the telephone, then both parties' telephones were busy.
You might have a problem if you had to report a fire and the firehouse telephone's "other" party was using his phone.
The 1927 telephone directory entry shown above documents a
unique
era in the history of the Whitneyville fire station. Between November 1926 and May 1927, the original wood-frame firehouse at 39 Putnam Avenue was torn down. A new two-story, two-bay brick building was constructed in its place.
While the new station was being built, a temporary Whitneyville fire station was located at the home of H.F. Hall, 116 Putnam Avenue, two blocks away. Mr. Hall was a prominent member of Co. 3 and part owner of Brock-Hall dairy.
From the Station 3 Log Book (1926-1947):

"We moved our [1910 Locomobile and 1915 Maxim] from the old Fire house to H.F. Hall's garage on Thursday Nov. 18, 1926. Was moved back to New quaters (sic) - Saturday May 15, 1927."
New Haven's COLONY and LIBERTY telephone exchange names disappeared in 1930 when dial service was introduced in most New Haven area communities. Exchange names would return in 1950, when the addition of two more digits to all phone numbers permitted the creation of thousands more urgently needed new telephone numbers for all New Haven area telephone exchanges.
| | |
| --- | --- |
| 1920s - 1930s | 1932 SNET Directory |
By 1932, dial telephone service was available in Hamden. Each volunteer company had its own telephone number, as they do to this day. And Hamden residents now had a single telephone number for reporting fire emergencies.
NOTE: The last four digits of Dunbar Hill's telephone number has remained unchanged since 1932.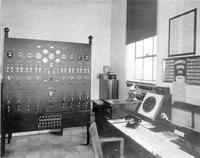 Alarm Room in 1940
The Hamden Fire Department emergency number changed in 1941, when fire dispatch facilities moved from the Humphrey station, which was covered by the New Haven exchange, to the new alarm room at the Centerville station.
Hamden's old emergency telephone number, 5-1432, was a New Haven telephone number. The new emergency number, 2-3511, was a Hamden telephone number.
1930s

1948 SNET Directory

1930s - 1940s
| | |
| --- | --- |
| | 1948 SNET Directory - The West Woods School was then a one-room facility. It would later serve as quarters for Vol. Co. 9. Many years later, the old one-room house as well as the Newhall St. School would both serve as quarters for HFD administrative offices. |
From The Hamden Chronicle, 1950 (Courtesy of the Hamden Historical Society)
1950s
Between June 1950 and the end of 1951, all phone numbers in New Haven and surrounding communities were changed from five or six digits to seven digits.
To help subscribers remember a seven number sequence - something we now take for granted - names like "CH

estnut

," "AT

water

," LO

cust

" and "MA

in

" were added to all telephone numbers to represent the first two digits of the number. The caller only had to remember the first two letters of the exchange name, followed by five numbers.
Most Hamden telephone customers, especially north of the parkway, had either an AT

water

8 or CH

estnut

8 telephone number.
The Hamden Fire Department's new emergency number became CH

estnut

8-5521, so the caller simply dialed CH 8-5521. Many Hamden telephone customers south of Putnam Avenue had New Haven exchanges, such as LO

cust

2 (562), MA

in

4 (624), FU

lton

7 (387), SP

ruce

6 (776) or SP

ruce

7 (777).
| | |
| --- | --- |
| | 1955 SNET Directory |
| | |
| --- | --- |
| Typical SNET 1950s number card, mounted in the center of the dial. This one was HFD's emergency number. | |
1960s - 1970s
When SNET went with "all-number" dialing with the 1962-63 telephone directories, CH 8-5521 became 248-5521, which remained the HFD fire emergency number until the introduction of 911 service on November 19, 1981.
From 1981 until 1988, 911 calls from telephone numbers with the prefixes 248, 288, or 281 went directly to Hamden Central Communications. 911 calls from Hamden residents with New Haven prefixes like 562, 624, 387, 777, etc. went directly to the New Haven public safety answering position, located at 200 Orange Street. All such calls were then manually rerouted to Hamden's Central Communications.
When Central received a 911 call from a North Haven resident with a 248, 281, or 288 telephone number, the call was rerouted to North Haven fire or police. If a structure fire was reported in certain areas of North Haven west of Ridge Road, Hamden would report the fire to North Haven and then send a Hamden engine, truck and rescue, as Hamden's apparatus was closer and would arrive much sooner than North Haven units. Several North Haven house fires in that vicinity were knocked down by Hamden units.
When Enhanced 911 (E-911) was introduced in 1988, all 911 calls could be
directed to the appropriate municipal dispatch center regardless of the caller's telephone number prefix.
E-911 also provided public safety dispatchers with what we today call "Caller ID."
All 911 calls generated a readout of the name, address and telephone number of the place where the call originated. This included all "unlisted" telephone numbers. The "Caller ID" feature required that individual telephone lines could no longer be shared - i.e. no more party lines.
HOUSE NUMBERING & OTHER HEADACHES
E-911 also required that every street address in Hamden have a unique number - no more fractional or so-called "rear" addresses.
When it was built, the first house on Hepburn Road near the corner of London Drive had been assigned the house number "1." Years later, another house was built on the same side of
Hepburn Road, but even closer to the corner of London Drive. The new house was assigned the house number "1/2."
Unfortunately, E-911 put an end to that novelty, but gave rise to a new one. The house that was once number "1/2" is now "0." Different!
The introduction of E-911 also created (and corrected) some oddball situations: There is a Hamden residence on Hartford Turnpike, just north of where Mt. Carmel Avenue ends, that was discovered to be a much quicker run for Engines 4 and 3, than for Engine 5.
There is a house at the end of Thorpe Drive that is actually in New Haven. That situation resulted in a late-1980s meeting between Hamden's Chief John Tramontano and New Haven's Chief John Reardon. The two chiefs decided that if a fire department response was needed at that Thorpe Drive New Haven home, Hamden would provide full fire department coverage and New Haven would respond with an engine and truck.
If you ever see New Haven's Engine 6 and Truck 4 turning into Woodin from Dixwell, they are probably headed for Thorpe Drive.
Now It's TEN Digit Telephone Numbers!
In 1960, the Southern New England Telephone Company was among the first Bell System affiliates to begin abandoning telephone number exchange names by going with "all-number dialing" in the Waterbury area. The New Haven area followed suit in October 1962.
This was somewhat controversial at the time. Some critics of "all number" telephone numbers were concerned
that most folks would never be able to remember seven numbers in a row.
As of Saturday, November 14, 2009, when the area code became a necessary component of every local telephone call, all telephone subscribers had to dial TEN digits, even to place a call next door. What would folks have thought about that in 1962?
COPYRIGHT NOTICE

Unless otherwise cited or in the Public Domain,
all material on this website,
including all original photos, essays, articles and commentary published herein, are Copyright © 2009-2023 by the Hamden Fire Retirees Association, Inc., and may not be copied or republished in whole or in part without prior written permission of the Hamden Fire Retirees Association, Inc.

Official website of the Hamden Fire Retirees Association, Inc.
Website powered by Network Solutions®