Corey's Lumber & Howard Johnson's
(Double-Header)
April 20-21, 1979
Platoon 2 was very busy on its second night with two structure fires of suspicious origin. At 11:15 on Friday night, April 20, 1979, a full assignment was dispatched to Corey's Lumber Co., 2425 Dixwell Avenue, just south of the railroad bridge on the east side where the parking lot for Bruegger's is now. The fire started in the rear and was well involved by the time the first engine arrived. It was under control by midnight, but the building was destroyed.

Firefighters were still at the scene when another fire was reported at just after 2 a.m. at the Howard Johnson Restaurant at 2260 Whitney Avenue, where the Hamden Town House stands today. The restaurant suffered extensive damage. Efforts to extingush the blaze were hampered by a broken gas line in the basement and several firefighters sustained minor injuries.

Posted 4/15/11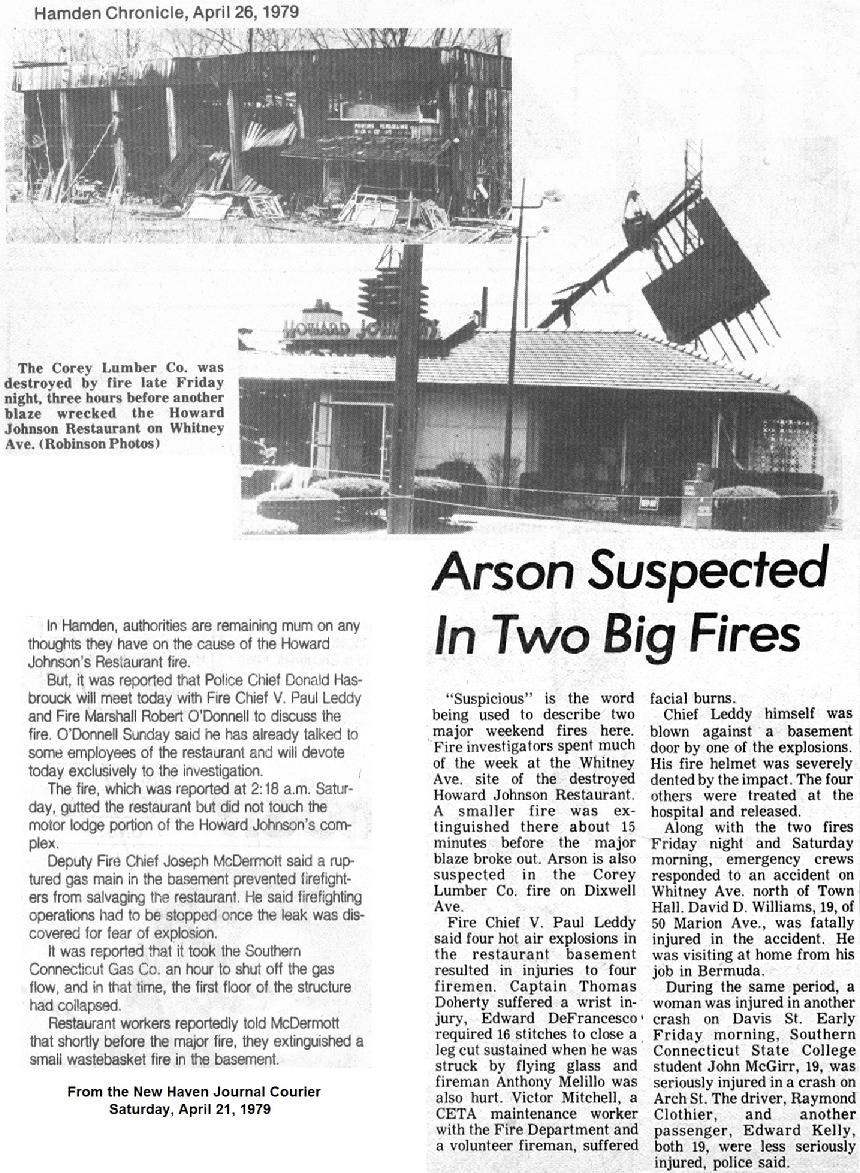 © The Hamden Chronicle - April 26, 1979
© The New Haven Register - Sunday, April 22, 1979 (Newspaper articles courtesy of Gilbert Spencer)



The fire at Howard Johnson's was the third time in 18 months that a broken gas line played a major role in the devastation. In October 1977, a broken gas line resulted in an explosion that destroyed an apartment in Whitneyville that killed two occupants. Several months later, in February 1978, a fire at the Daw Packing Co. was fed by a broken gas line in the basement. Subzero temperatures hampered efforts to shut off the gas at the street.

The Corey's and Hojo's fires were not the only major emergencies that night. Volunteer Co. 7, filling in at Headquarters during the two fires, was first on the scene of a fatal one-car accident in front of the old Centerville Food Shop on Whitney Avenue, just north of Day Spring Street.




COPYRIGHT NOTICE

Unless otherwise cited or in the Public Domain,
all material on this website,
including all original photos, essays, articles and commentary published herein, are Copyright © 2009-2023 by the Hamden Fire Retirees Association, Inc., and may not be copied or republished in whole or in part without prior written permission of the Hamden Fire Retirees Association, Inc.

Official website of the Hamden Fire Retirees Association, Inc.
Website powered by Network Solutions®