Station 9 - West Woods

Johnson Road at Still Hill Road



| | |
| --- | --- |
| West Woods Vol. Fire Co. (1956 - 1989) | Engine Co. 9 (career) - Est. 1968 |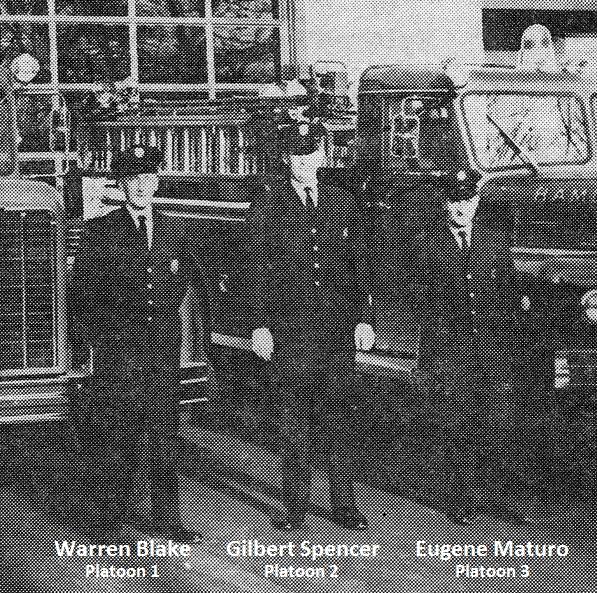 December 1968 - These were the first three firefighters assigned to Station 9
_____________________________________________________________________________________________________
_____
CLICK on any photo to enlarge
| | |
| --- | --- |
| Lt. C.J. Hedges, Ff. Jay Connolly and Ff. Russell Quick | Capt. Adam Barletta, Ff. Mike Battick and Ff. Vic Jackson |
_____________________________________________________________________________________________________
_____
Lt. Joe Anderson, Ff. Ray Pouncey and Ff. Sayyid Abur-Rahmann




Lt. Kevin St. John and Ff. Burton "Chip" Talmadge

The third member of the crew is

currently deployed with the U.S. military



_____________________________________________________________________________________________________
_____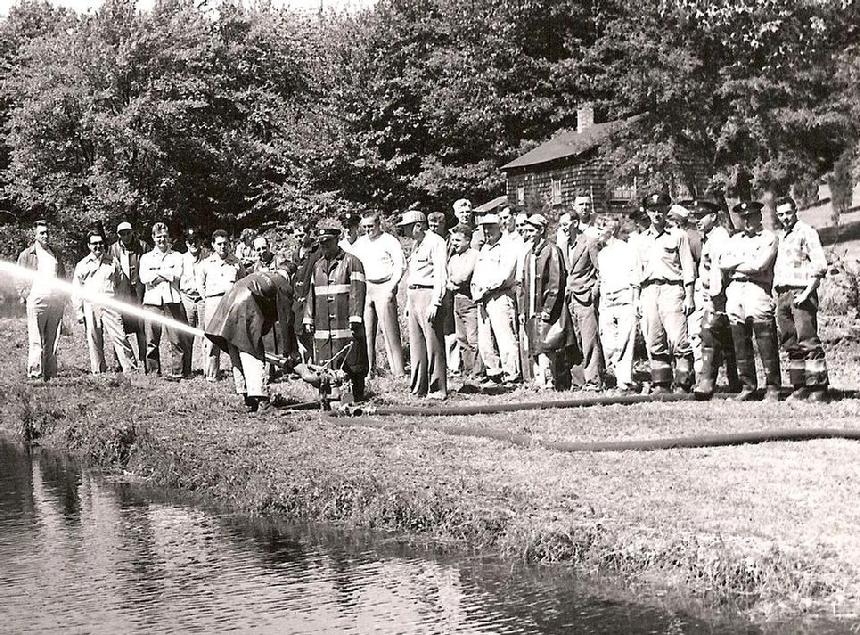 August 1956 - The newly-organized West Woods Volunteer Co. No. 9 trains at Sneiderman's Pond with members of the paid department. Dep. Chief Everett Doherty (in bunker coat and soft hat) was a driving force behind the formation of the fire company. Ff. Jack Laffin is second from right.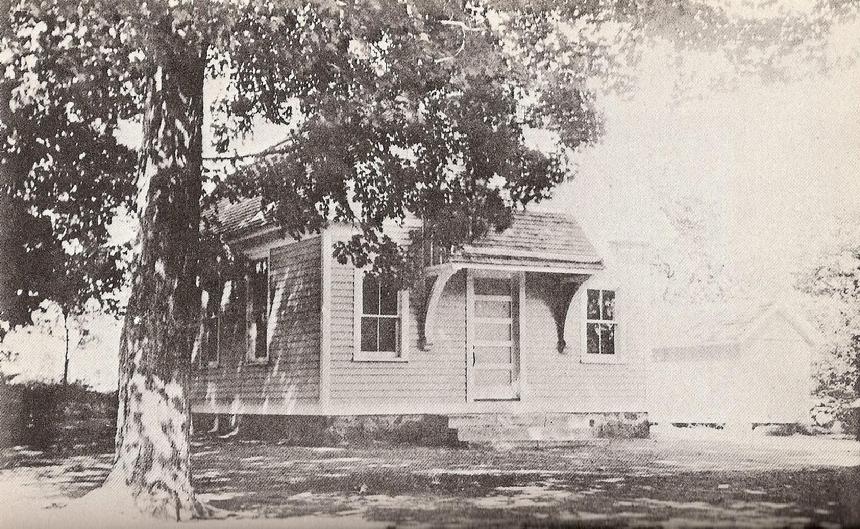 This one-room schoolhouse at the corner of Johnson Road and Still Hill Road still served Hamden students in the extreme north end until the early 1950s. A couple of years later, this building would become the fire station and meeting house for the West Woods Volunteer Fire Association. (Photo by Carl J. Jensen)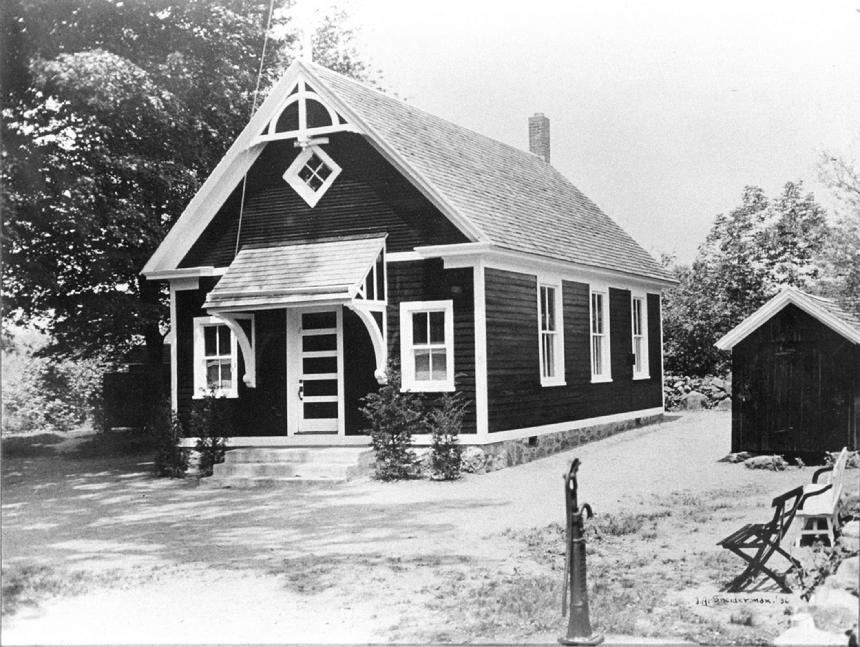 Built in 1909, Hamden's last one-room schoolhouse closed in 1954 (Courtesy of the Hamden Historical Society)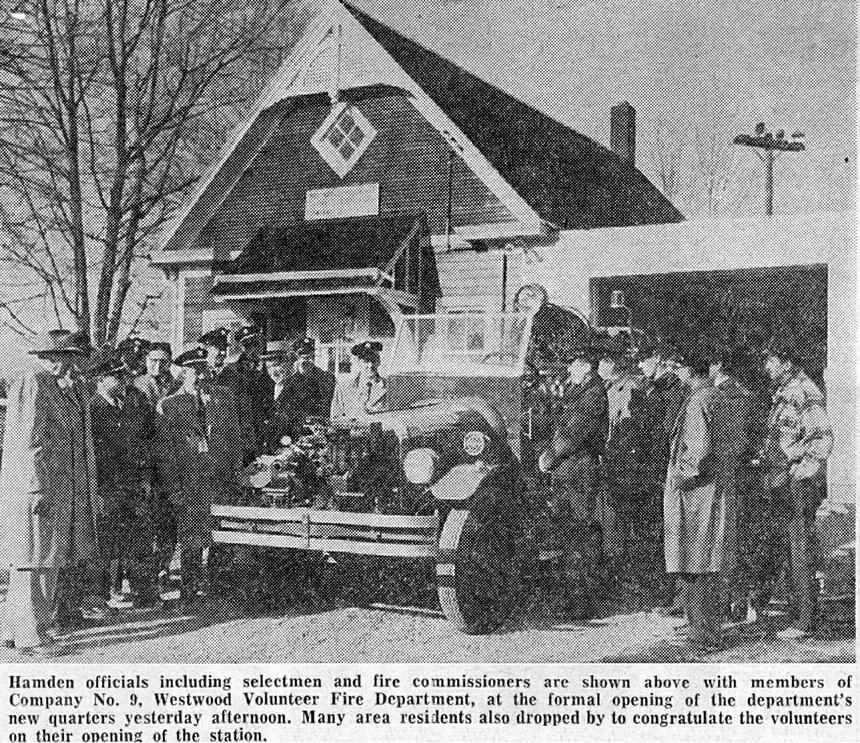 February 3, 1958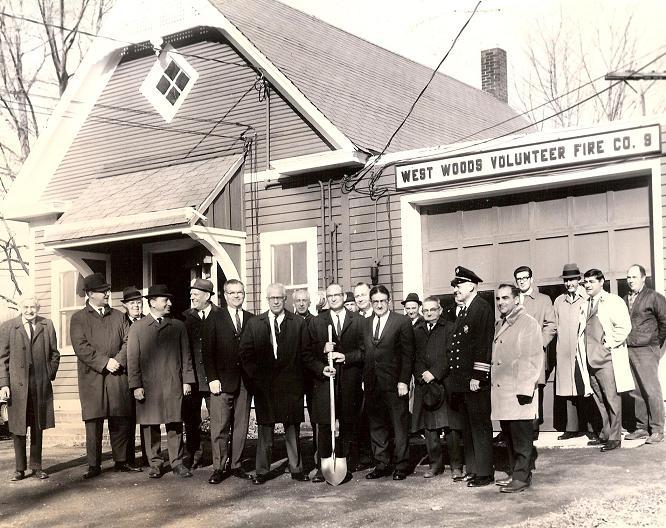 December 1967 - Groundbreaking for new Station 9. Ten years earlier, the old one-room schoolhouse was modified with an annex for the apparatus assigned to Co. 9 volunteers.
| | |
| --- | --- |
| This photo dated August 21, 1968 shows how the garage annex of old Station 9 was converted into a meeting room, even though the new Station 9 would not be ready for occupancy until the end of the year. The A-frame garage that housed Co. 9's 1929 Seagrave tiller ladder truck can be seen in the background. This was probably the temporary garage for Co. 9's engine while the new station was under construction. The West Woods Volunteer Co. No. 9 disbanded in the late 1980s. This building became fire headquarters for several years starting in the mid-1990s. | August 2000 - As Fire Headquarters (Photo by Chan Brainard) |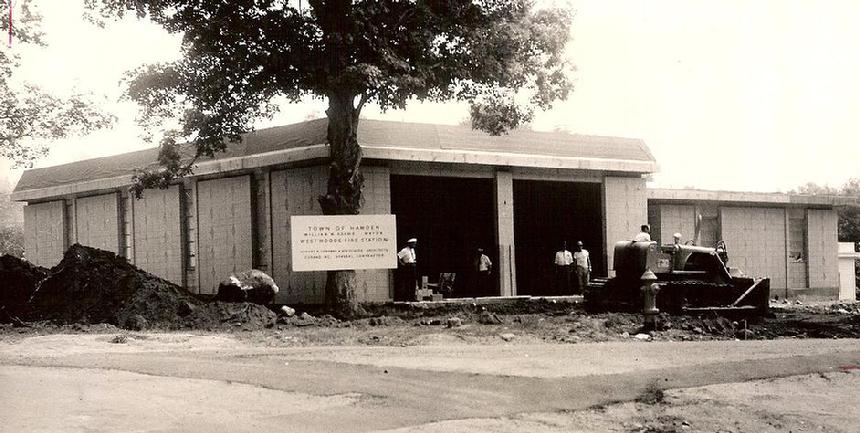 Summer 1968 - New Station 9 under construction. You can see the newly constructed, yet unpainted meeting room of old Station 9 in the background, on the RH edge of the photo. New Haven Register photographer I.A. (Izzy) Sneiderman took this photo. Mr. Sneiderman lived directly across Still Hill Road from new Station 9 and was a frequent visitor in the years that followed.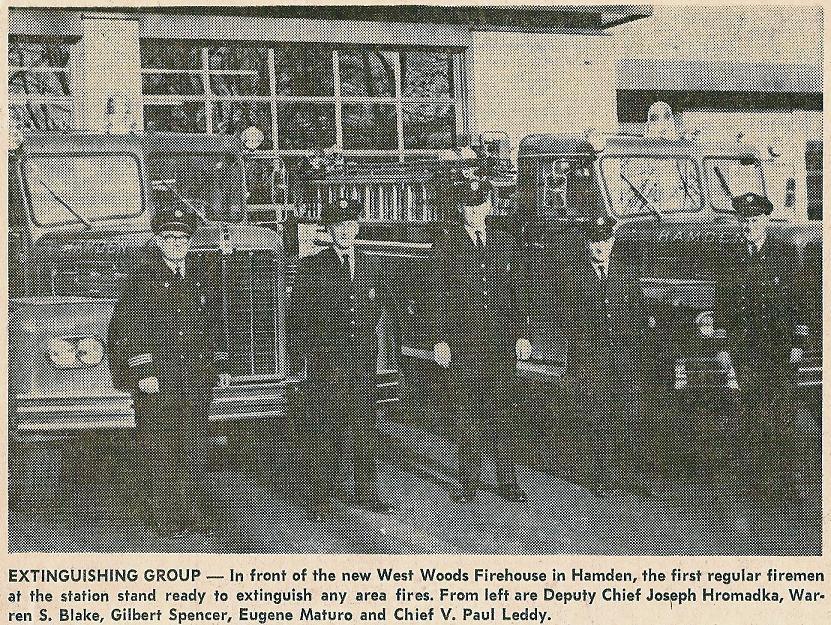 December 11, 1968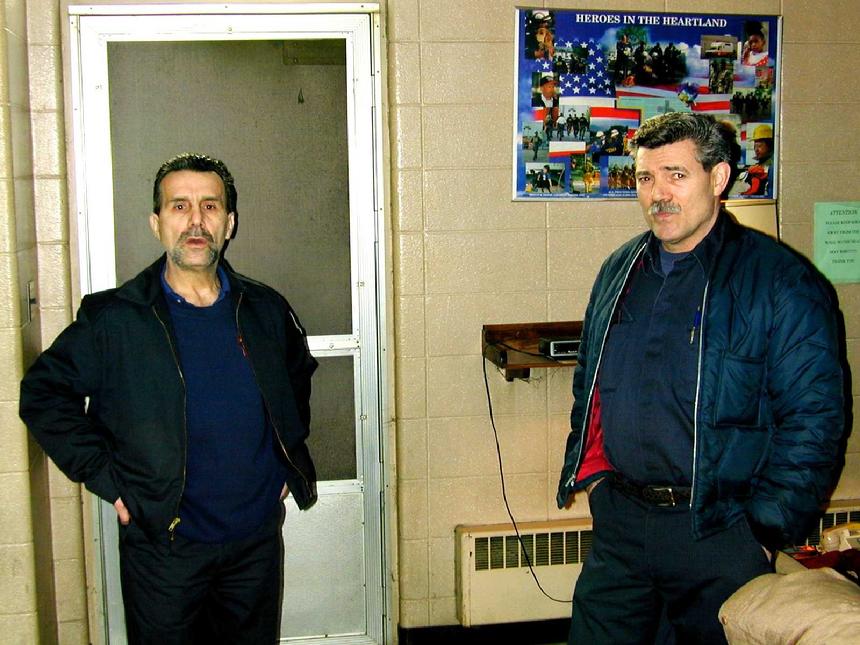 Ffs. Ralph Tomaselli and Charlie Cargan at Station 9 in the early 2000s. (Photo by Bob Mordecai)
Co. 9's 1929 Seagrave Tiller Aerial Truck
After about ten years of ownership, Volunteer Co. 9 advertised this truck for sale in 1973. According to the "Seagrave Painters Log," the serial number of this apparatus was #55380. It was painted "Coach Painter's Red" (a standard Seagrave color) at the Columbus, Ohio factory on January 25, 1929.

The West Woods Volunteer Fire Co. 9 became officially inactive on March 1, 1989.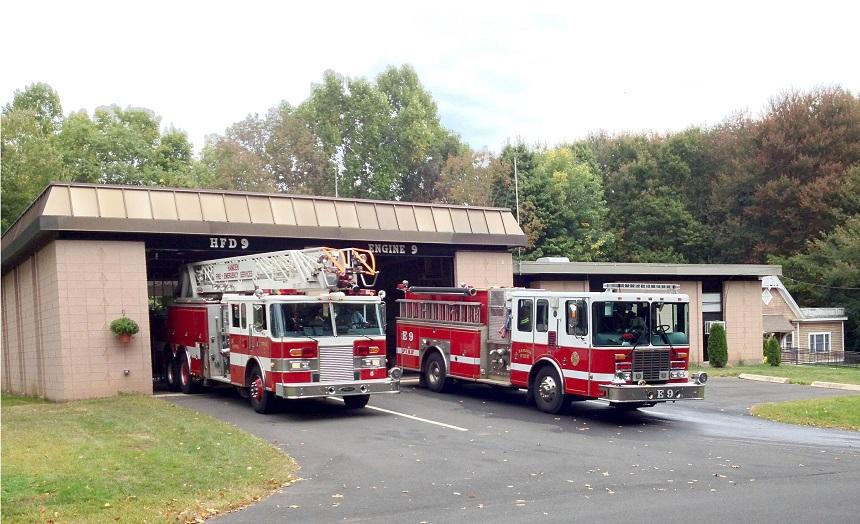 Station 9 - September 29, 2014
COPYRIGHT NOTICE

Unless otherwise cited or in the Public Domain,
all material on this website,
including all original photos, essays, articles and commentary published herein, are Copyright © 2009-2021 by the Hamden Fire Retirees Association, Inc., and may not be copied or republished in whole or in part without prior written permission of the Hamden Fire Retirees Association, Inc.

Official website of the Hamden Fire Retirees Association, Inc.
Website powered by Network Solutions®