1948-1950

The Department Goes From 84 to 67 to 56
When the Hamden Fire Department was reorganized under a paid chief and line officers in April 1942, the department consisted of two platoons of 2 officers and 9 men each, all working an 84-hour workweek. During any given two-week period, each captain, lieutenant and firefighter worked six 10-hour days, followed by one 24-hour workday, followed by six 14-hour nights, followed by one full 24-hour day off. Not a great schedule by today's standards.

With the coming of Hamden's building and population boom following World War II, the number of paid firefighters grew to meet the new manpower needs of the fire department. By the beginning of 1948, in preparation for a 20% shorter workweek, the total number of officers and men on each platoon had increased to 18. On February 1, 1948, the Town implemented to a new 67.1-hour workweek, consisting of 4 days on, 1 day off, 4 nights on, and 2 days off.

During the next three years, the department would create four new officer positions and add fifteen new firefighters. On December 2, 1950, the Hamden Fire Department adopted a 56-hour workweek with three platoons, which remained in effect for nearly twenty more years.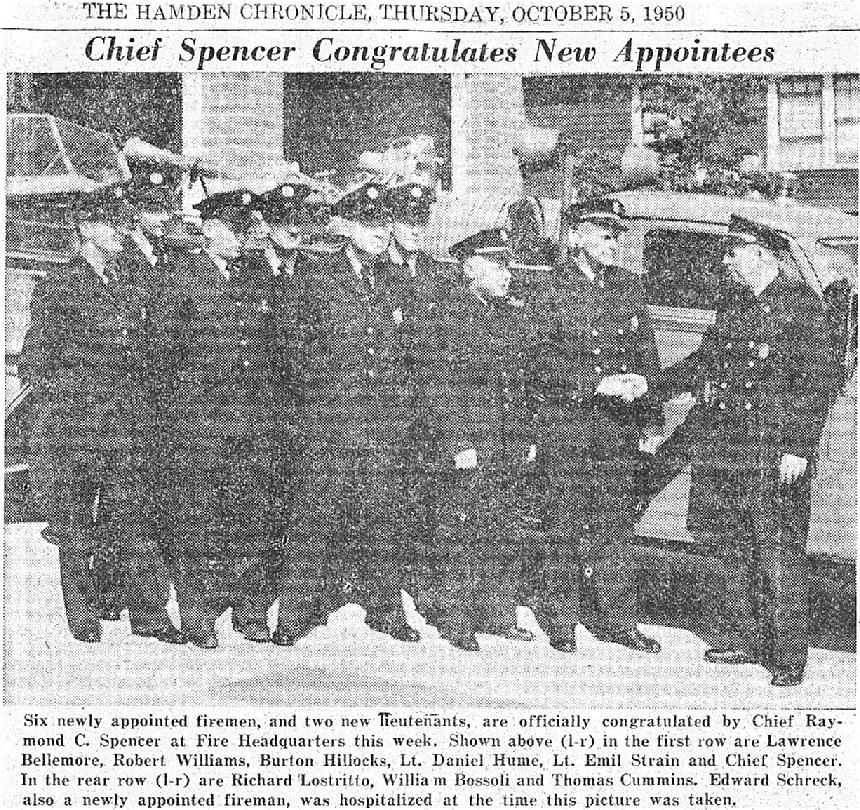 © 1950 - The Hamden Chronicle
67-hour Workweek
February 1, 1948




56-hour Workweek
December 2, 1950



The Hamden Chronicle, January 22, 1948

© New Haven Sunday Register - Sunday, December 3, 1950
COPYRIGHT NOTICE

Unless otherwise cited or in the Public Domain,
all material on this website,
including all original photos, essays, articles and commentary published herein, are Copyright © 2009-2021 by the Hamden Fire Retirees Association, Inc., and may not be copied or republished in whole or in part without prior written permission of the Hamden Fire Retirees Association, Inc.

Official website of the Hamden Fire Retirees Association, Inc.
Website powered by Network Solutions®