"New" Station 3

Hartford Tpke. at Ridge Road



This 1970 photo by Cal Stoner shows the brand new Station 3 with apparatus in place. L-R: Engine 3 (1968 Maxim S-model), Truck 2 (1970 Maxim 100' aerial), and Rescue 1 (1959 International Travel-al). Behind Rescue 1 is Engine 6 (1954 Maxim). The Deputy Chief's car, Car 30, ran out of the rear overhead door behind Engine 3. That would change in November 1971, when the two International rescues were taken out of service. A new Rescue 1 was put in service at Station 4 and Car 30 took over the spot in front of Engine 6.
1986 - Lt. Bob Mordecai, Ff. Ed DeFrancesco and Ff. "Red" Ralph Purificato assigned to 100' Maxim aerial at Station 3
After 40 years, the bays of Station 3 are finally labeled with of the IDs of the apparatus housed within. Firefighter Jay Connolly did an outstanding job!
Station 3 - Sunday, May 1, 2011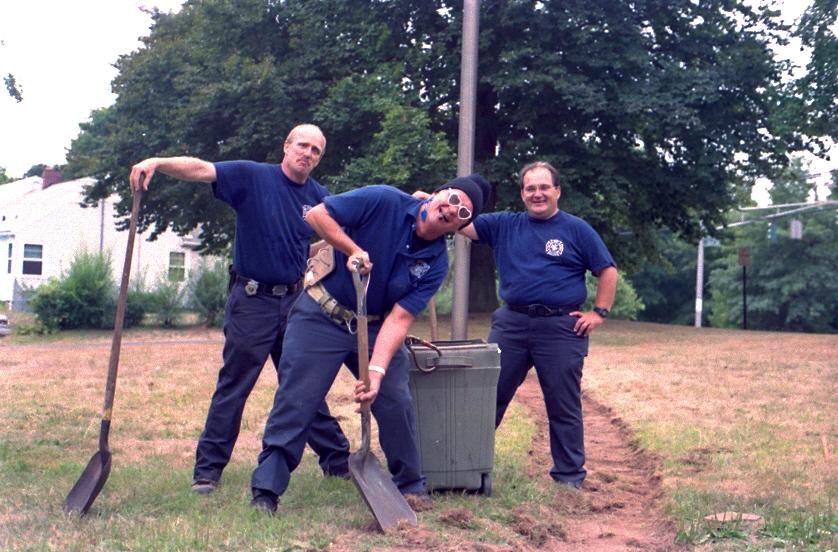 Sept. 1995 - Hal Prescher, Dave McDermott (in his new "Lolita" sunglasses) and Johnny Longo doing some needed landscaping at Station 3.
Dave, the Stylish Landscaper!

Dave ("What can I fly at next?") and John ("Put down the camera and get over here!")

Station 3 offered its own unique set of work details. In the early days there was Purgatory Hill in the backyard, or washing all ten thousand windows every Wednesday. On this particular day in the late summer of '95, Harold, Dave and John decided to clear a path to the flagpole - for whatever reason cannot be recalled. But they were a great crew who always knew how to have some fun while tackling a mundane chore.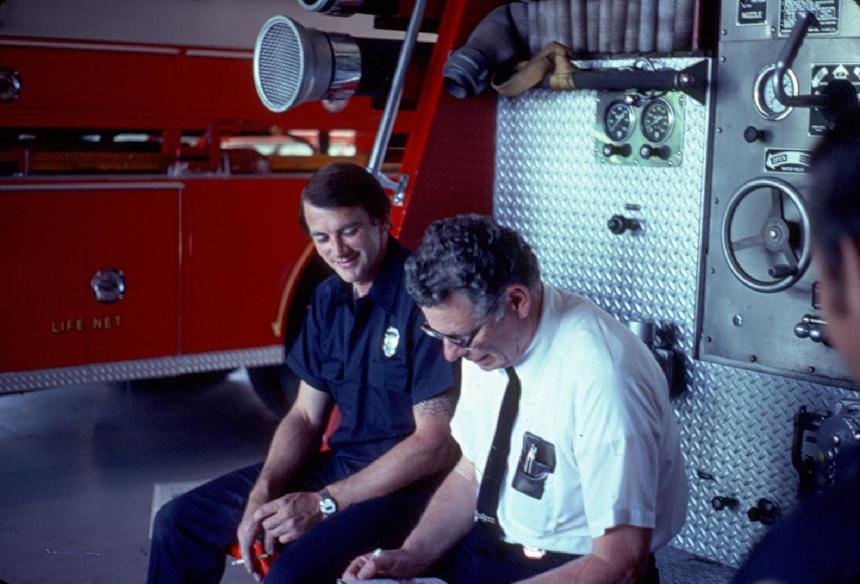 6-9-78 - Ff. George Edwards and Dep. Chief George Reutenauer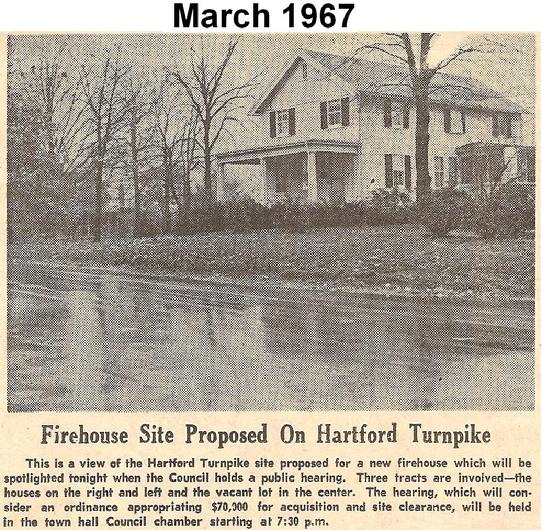 Future Site of "New" Station 3 (Newspaper article courtesy of Gilbert Spencer)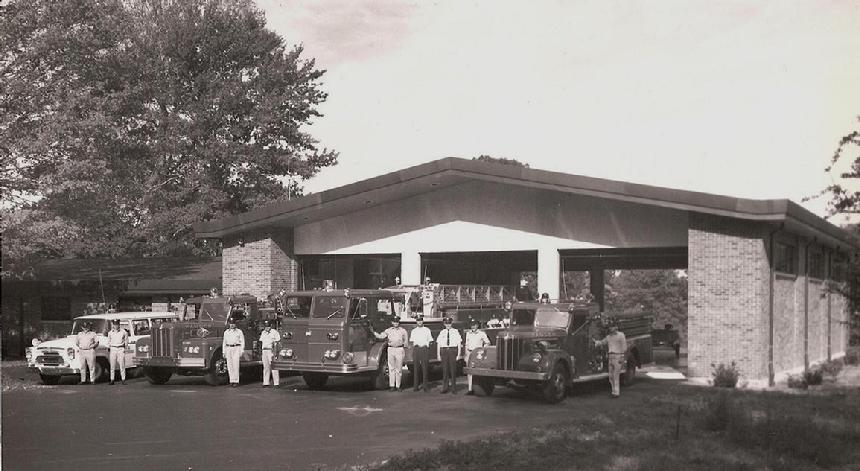 New Station 3 Opens
September 11, 1970 - Less than one month before the 42-hour work week was instituted, new Station 3 opened at Hartford Tpke. and Ridge Road. L-R: Joe Rahl and Dan Murphy on Rescue 1 ('58 International), Charlie Carlson and Walt Macdowall on Engine 3 ('68 Maxim), Gene Maturo and Lt. Ken Harrington on Ladder 2 ('70 Maxim), Chief V. Paul Leddy, and Tony Melillo and Joe Shields on Engine 6 ('54 Maxim). New Station 3 was officially dedicated on November 1, 1970.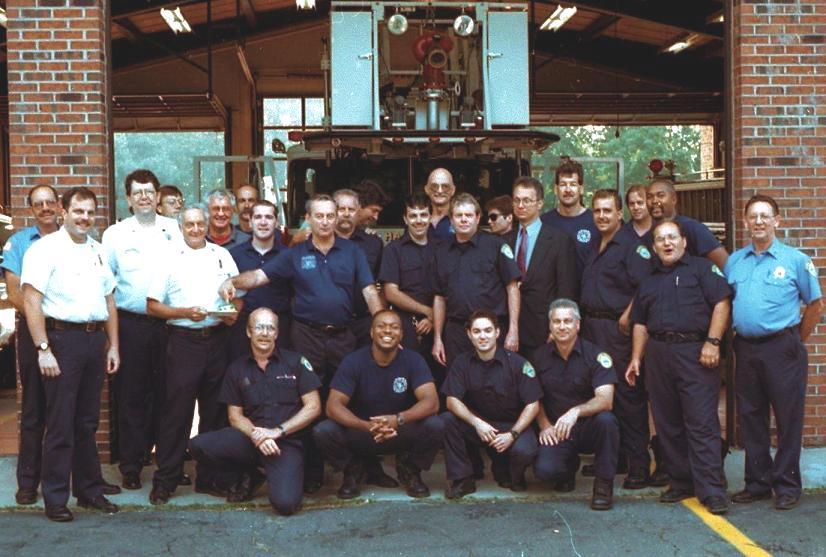 August 29, 1996 - Tom Doherty Retires
Standing L-R: Lt. Frank Critchett, Dep. Chief Tim Sullivan, Capt. Dave Johnson, Capt. Paul Wetmore, Jr., Batt. Chief Doherty, Dave McDermott, Ed Emerson, Kurt Vogt, Jim Moore, Paul Frodel, Mark Pratt, Rich Otlowski, Harold Mangler, Bob Stacy, Roberta Angiletta, Capt. Don LaBanca, John O'Dea, Rob Madigoski, Paul Durkin, Joe Anderson, John Longo, and Lt. Doug Yocher. Kneeling: Harold Prescher, Mike Green, Henry Puciato, and Bob Anthony.


After more than 35 years on the job, Battalion Chief Tom Doherty officially retired at the end of August 1996. Platoon Three's final trick of August ended on the morning of 29th, when members of Tom's platoon, those working extra, and many friends gathered at Station 3 to treat Tom to a surprise send-off.

Tom wasn't about to waste those last three days before retirement, though, so he took the extra job on that day shift. At right, Tom is pictured 10 hours later with Batt. Chief Mike Ambriscoe at the change of shift. Shortly thereafter, Tom Doherty left the fire station for the final time.

Batt. Chief Mike Ambriscoe retired in December 2004 to accept the position of Chief of the Chatham Fire Department on Cape Cod, where he still serves.




August 29, 1996 - Batt. Chiefs Tom Doherty and Mike Ambriscoe
| | | |
| --- | --- | --- |
| Autumn 1976 - Platoon 4, Station 3 - Doug Yocher, John Reilly, Art Heriot, Bill Davin, and Capt. Jack Laffin (Photo by John O'Hare) | One Friday in the Autumn of 1976 - Jack Laffin and John Reilly manicuring the flora near Purgatory Hill at Station 3 (Photo by John O'Hare) | Autumn 1976 - Fred Fletcher at Station 3 (Photo by John O'Hare) |
| | | |
| --- | --- | --- |
| Autumn 1976 - Platoon 4, Station 3 - Top: Doug Yocher, John Reilly and Art Heriot. Bottom: John O'Hare and Bill Davin. (Photo courtesy of John O'Hare) Working extra with these guys was a treat. | Autumn 1976 - Art Heriot and Bill "Willis" Davin (Photo by John O'Hare) | Autumn 1976 - Willis and Art (Photo by John O'Hare) |
1995 - Harold Prescher testing the light bulbs at Station 3 with Sam DeBurra
1978 - Lt. Frank Eitler uses his powers of persuasion to get Guy White to clean the kitchen at 3's. (But Guy got Frank's bullwhip first.)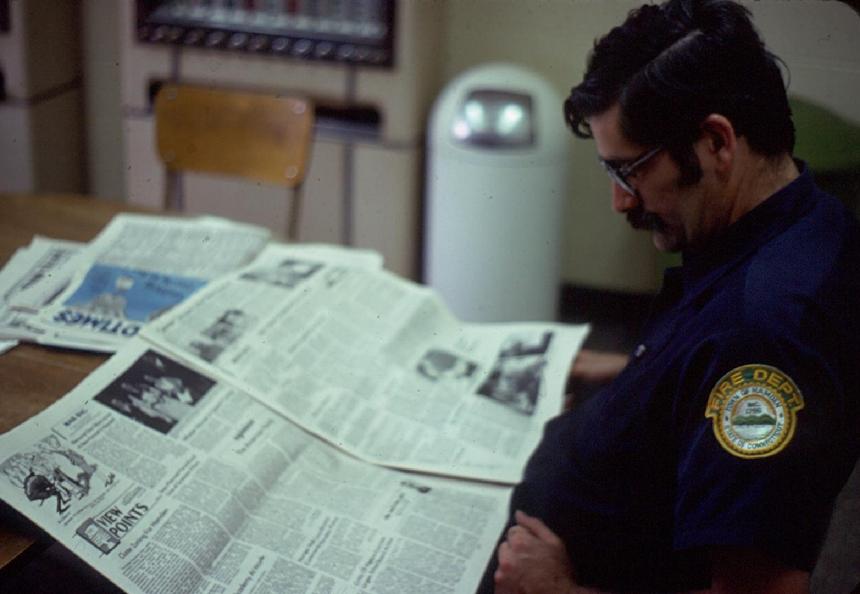 June 9, 1978 - Ray Reilly at Station 3 - Once we were done with the morning chores, it was time for coffee and the paper. (Photo by Dave Johnson)
July 1978 - Station 3 - Dep. Chief George Reutenauer, Lt. Frank Eitler, Ray Reilly, Guy White, Jeff Stoehr and Danny Murphy. The cake read "GOOD LUCK, GUY" because this was his last day on the job. Guy relocated to Georgia work for an insurance company. (In the How-Times-Have-Changed Dept: Notice the cigarette machine in the background, a ubiquitous fixture in all stations in those days.)
Station 3 Watch Desk - Then and Now

Over the years, those of us who worked at "new" Station 3 spent literally hundreds of hours at the watch desk.

On any given day we often take our surroundings for granted. But let a few decades pass and the surroundings that we once took for granted may seem a bit "quaint." Check out these two photos of the view from the Station 3 watch desk, taken thirty-three years apart.
Posted 6/17/11

| | |
| --- | --- |
| June 15, 1978 - Watch Desk - Station 3 - CLICK to enlarge the photo and see if you can spot at least three items that are not found in Hamden fire stations today. Scroll down slowly to the bottom of the photo to see the answers. | June 3, 2011 - Almost the same vantage point. The artifacts in the 1978 photo have been replaced by a 21st century computer printer for receiving dispatches, and a flat screen TV. Ahh, but that cup hook for the keys is still there. Still gotta have keys! (CLICK to enlarge) |
Every Wednesday - 25 panes times 6. And then there were the rest of the windows!
A retired Hamden fireifghter and regular website visitor noted that the more recent photo on the right-hand side above shows the insulated overhead doors that were installed after the front of Station 3 was unexpectedly remodeled in the late 1980s when the 1970 ladder truck backed into one of the center columns. The center bay door was heightened and all six front and rear overhead doors could now be opened and closed by just pushing a button. The original all-glass overhead doors were opened by the tug of a rope and closed by sheer manpower.

Those old overhead doors provided a nice view of the apparatus for passersby, but they were a pain-in-the-neck to wash (inside and out) every Wednesday, the day the windows in every Hamden fire station were supposed to be washed ("W" for "windows, "W" for "Wednesdays" - get it?).

Posted 6/20/11
COPYRIGHT NOTICE

Unless otherwise cited or in the Public Domain,
all material on this website,
including all original photos, essays, articles and commentary published herein, are Copyright © 2009-2021 by the Hamden Fire Retirees Association, Inc., and may not be copied or republished in whole or in part without prior written permission of the Hamden Fire Retirees Association, Inc.

Official website of the Hamden Fire Retirees Association, Inc.
Website powered by Network Solutions®